An adaption of the pop star's bombshell memoir is reportedly 'beginning to take shape'
It hasn't even been on shelves a full month yet and already Britney Spears's best-selling memoir, The Woman in Me, is in talks to be turned into a screen adaptation.
The bombshell memoir, which was released on 24 October, contains a number of candid revelations about the 41-year-old "Toxic" singer's personal life – including her relationship with Justin Timberlake and the battle for custody of her children.
In its first week, it had sold over 1 million copies in the US, topping The New York Times bestseller chart for nonfiction.
According to reports by PageSix, Brad Pitt, 59, is among the high-profile celebrities bidding for a chance to adapt Spears's story for the big screen. Reese Witherspoon and Margot Robbie are also among those apparently interested in the project, sources told the US tabloid.
The Independent has contacted Pitt and Spears's representatives for comment.
Pitt's bid, however, has faced some criticism, with several people on X/Twitter suggesting that having his company Plan B Entertainment "produce the story about an abused woman" would be hypocritical.
"Sick really, cos he's produced She Said, Blonde, and Women Talking….there's a pattern to 'rehabilitating' his image as this feminist and harbinger of women's stories," one person tweeted.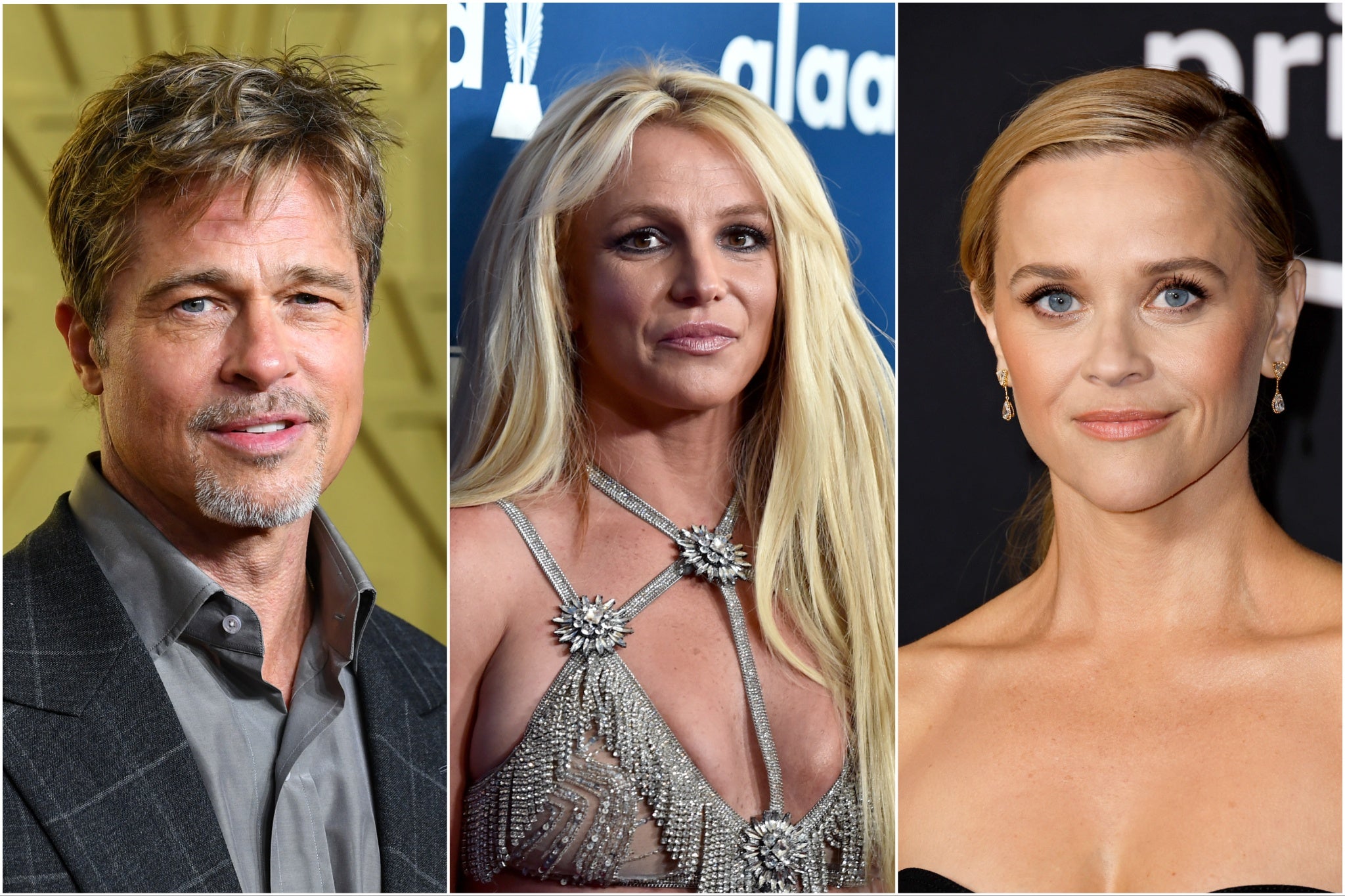 Brad Pitt, Britney Spears and Reese Witherspoon (Getty Images)
"Brad Pitt constantly throwing his name on stories about the exploitation and abuse of women is a different type of evil to me," a second added.
Over the years, Pitt has faced accusations of continuing to work with convicted rapist Harvey Weinstein, even after the Fight Club star knew about the media mogul's behaviour.
Pitt has denied working closely with Weinstein in the past. For 2012's Killing Them Softly – distributed by The Weinstein Company — a source close to the deal told BuzzFeed that the film was managed through CAA, meaning Pitt and Weinstein had no direct interaction.
Access unlimited streaming of movies and TV shows with Amazon Prime Video
Weinstein also produced Quentin Tarantino's 2009 film Inglourious Basterds, starring Pitt; however, sources told BuzzFeed that the actor had minimal contact with Weinstein throughout production and that the movie was a continuation of Pitt's work with Tarantino.
In a 2018 interview, Gwyneth Paltrow revealed that Pitt had threatened to kill Weinstein after the producer touched her inappropriately during a 1994 work meeting.
Pitt recently faced abuse allegations of his own from ex-wife Angelina Jolie. The Maleficent star had accused Pitt of physically and verbally assaulting her and their children aboard a private jet in 2016.
Pitt's representative called Jolie's allegations "completely untrue". He was later cleared of any wrongdoing following an investigation by the Los Angeles County Department of Children and Family Services and the LAPD.
The planned adaption of Spears's memoir is "only beginning to take shape," an insider told PageSix.
Last week, US media company The Ankler reported that Spears was "overwhelmed by the response" to her book's success and the "media frenzy surrounding it", causing her team to "hold off on making any major decisions about where the rights end up until she has time to catch her breath".
She had apparently rescheduled a meeting with an unnamed producer "at the last minute" as she "didn't feel up to it", the outlet said.